Road trip around Australia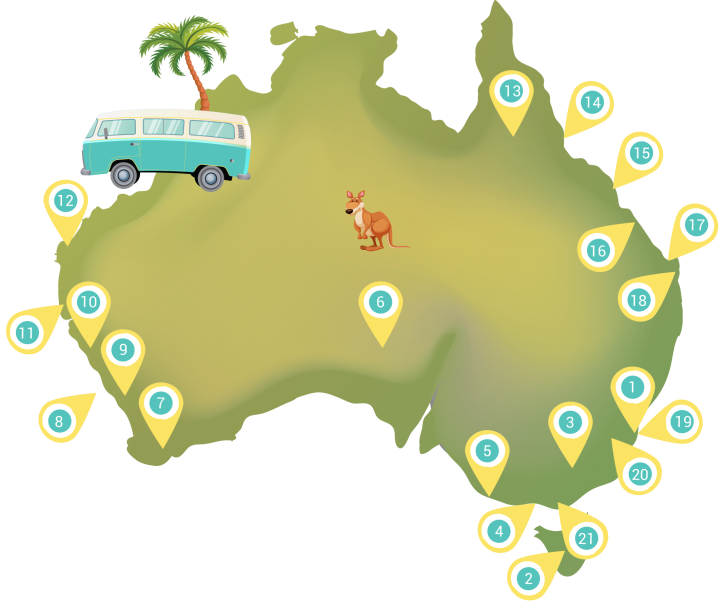 As we explored Australia's southwest coast, Francesco and I found one hidden gem after another. There are places that you hear about all the time….
Rottnest Island is easily accessibly by ferry from Perth and is a great choice for a day trip or weekend getaway. Only about 300 people live on the island….
Australia, as Francesco and I discovered, is full of strangely beautiful sites that seem like something from another world. One of the most striking of these….
Think of a scene that recalls the phrase "tropical paradise," and chances are you're imagining a place that looks like Coral Bay. In fact, the entire Coral Co….
One of the things I came to like the most about Francesco is his desire for meaningful travel. We have that in common—we don't want to only see a few famous….
After a day spent on the farm, Francesco and I decided to balance things out by spending a day playing. We headed to the rain forest, and maybe it was simply becaus….
Francesco and I set out in the van to explore Australia's east coast, expecting more incredible natural beauty and plenty of fun. We headed to Bundaberg, which…
We just couldn't get enough of Queensland. There was so much to see and do and spectacular natural beauty was everywhere. We spent a lot of time on the road, and….
If you're a newcomer to Sydney, like Francesco and I were, the first place you should go is Observatory Hill. It overlooks the Harbour Bridge and is a great….
Canberra is one of the most unique capital cities I've ever seen. Most capital cities are sprawling, full of high rises and brutal traffic. But Canberra, which is smaller….
Is there a better place in the world for beach-lovers than Australia? Whether you want to swim, surf, snorkel, or simply plop on a beach towel and watch the world go by….
Image Vectors: Vecteezy.com