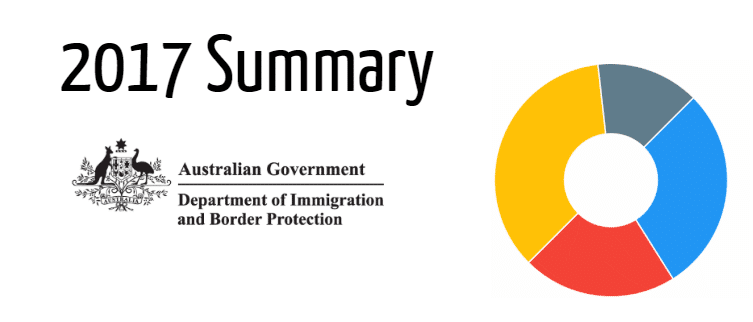 This year has been a tough and exciting year for Get Your Visa and for the migrants over here.
What's happened at the Department of Immigration and Border Protection in 2017?
We had a date that is not going to be forgotten easily… 17th of April 2017. That day there has been a bit of a tsunami going on with the Department of Immigration announcing clamorous changes:
More than 200 occupations were deleted from the Skilled List;
Others were downgraded to the new announced Short-List;
The 457 (a program over 20 years old) was revised and will be deleted as per March 2018;
Applications pending became retroactively affected from the changes.
Since that day a lot of stress and questions came up between our clients and amongst the agents. Some of these are still unanswered, others are now cleared up.
But the 17th of April was not the only key date. This year will be also remembered as being the year were thousands of people were seeing their hope to apply for the citizenship being destroyed with more waiting time and more stringent criteria. Luckily this proposal was then wiped out in October 2017 and the prospective applicants now eligible for Citizenship can happily apply for this (do it sooner rather than later!).
Other relevant changes this year were the below:
Removal of the Salary English exemption;
Introduction of compulsory police checks for any 457 applicants;
Separation between Short term and Long term visas for 457 people with only 2 years validity with no provision to apply for the Permanent residency for the first ones and 4 years with eligibility to apply for the Permanent residency for the second ones;
Age limit for permanent residency lowered to 44 years (from 49 years) for any Direct Entry or Skilled Visa applicants;
Skilled lists to be reviewed every 6 months (January and July);
Removal of different training options with more restrictions applied to training requirements.
What is going to change at the Department of Immigration and Border Protection in 2018?
With several changes made in 2017, there are still others to come in 2018 with the below being introduced in March 2018:
Grand-fathering transitional arrangements: any person holding or having lodged the 457 as per the 17th of April 2017 will be still able to apply for the permanent residency after 2 years under 457 regardless of the occupation and the age limit will remain 49 years old for those applying under 186 TRTS;
Training Benchmark updated: the standard training benchmark A and B will be replaced with one off payments to be made at the time of the Nomination 457 ($1,200 for each year of nomination per applicant) and of the Nomination 186 ($3,000 one off per applicant);
Work experience will be compulsory for all applicants under 457 and 187.
What can you do?
APPLICANT: If you think you can qualify for any visa prior March 2018 as those changes may affect you, then do not take chances and apply sooner rather than later.
EMPLOYER: as the criteria for the training benchmark will change in March, we recommend you to nominate employees before March 2018 if this is more convenient for your profile.
Questions?
We are here to assist! Do not hesitate to contact us to book a consultation.